That's right, I've put myself forward as a contender for this one. I fit the criteria: I'm an RPG blogger and I've been at it since the start of the year. Do I think I'm going to win it? Probably not. There's a ton of great sites out there that are competing for this one, and today I'd like to talk about a few of them that you should go and check out, maybe even vote for. I would love you to throw a vote or two my way – I'd hate this to be a total annihilation – but only vote for the site that you think deserves it the most.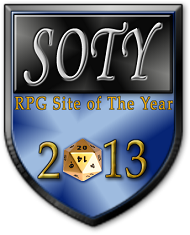 Nearly Enough Dice. A site mainly dedicated to a podcast, and one I listen to whenever I get the chance. Although I have recently started to podcast myself, it rarely touches on the hobby that defines me so much. For that kind of thing, there are just two places I go: Nearly Enough Dice, and…
G*M*S Magazine. Yes, I know they sponsor this site, and I refuse to let them forget how amazing they are for doing so, but I would be pointing you in their direction even if they weren't so generous. As a budding games designer myself, their podcast is one of the best out there, with interviews with professionals who've put in the hard work passing on nuggets of wisdom and amazing stories.
Geek Native. Not strictly speaking an RPG blog, but since it covers every aspect of geek and pop culture, it's be foolish not to include it. A site I end up at daily, to read about fun things that interests me. For instance, did you know that the Doctor was in an issue of the Avengers? I didn't until I checked them out.
So there you go, three other sites that totally deserve your vote, just as much as I do. For a full list though, you should totally go and check Stuffer Shack. Not least because if you poke around on there long enough, you'll come across my weekly column.
If you like my blog enough to vote for it, and thank you so much if you do, then Tuesday noon (GMT) for a whole 24 hours is when you need to do it. So head on over and vote.